Twitter is a surprisingly good platform for connecting with people. Sometimes it seems like a one-sided connection, but over time, people begin to recognize each other, and you can facilitate the process until you're successfully networking throughout your industry.
Describe Your Specialty in Your Bio
One of the keys to getting more clients is letting people know what it is you actually do. Your Twitter bio should include your elevator pitch. My basic formula is [personal item][profession][joke][exceptional clients][CTA].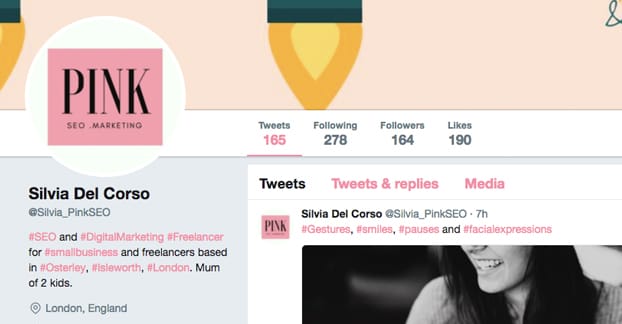 So, for example, you might have something like this:
Husband and father, freelance graphic designer, and organizational ninja working with @coke and @disney. Check out my portfolio at <link>.
It's a short profile but it does a lot of work. It tells people what kind of profession you're in, an idea of your sense of humor and what your personal life is like, and what other companies have worked with you in the past. Plus, it has a link to your portfolio so any interested parties can check you out. I recommend tracking that link specifically with some UTM parameters so Google Analytics can pick up more data, as well.
Link Your Portfolio Website
I know I literally just said that you should link to your profile website in your Twitter bio, but I don't just mean your bio here. Your Twitter feed should frequently – at least once a day if possible – include a tweet of your work. You can't always pull this off, of course. A freelance coder can't necessarily post code snippet, particularly of projects under NDA. A graphic artist, musician, and to some extent writer has a better chance of pulling this off.
You'll want to split things up between tweeting samples and screenshots of your work and posting full examples and links to your portfolio site. Sometimes people don't want to visit another site, but will happily retweet a full image. Sometimes they're more inclined to click a link and explore at their own pace. Give them both options fairly frequently.
Tweet Examples of Work and Samples Frequently
Whenever you can tweet something that's relevant to your freelance career, you should do so. Again, artists, musicians, and writers tend to have this easy. It's really easy to post an image, link to a BandCamp or SoundCloud page, post a YouTube video, or link to a post on Medium or another blog. Other freelancers in other industries might have a harder time. Instead of tweeting samples of work, you might have to tweet about side projects or just advice you would give to people in a scenario where they might hire you.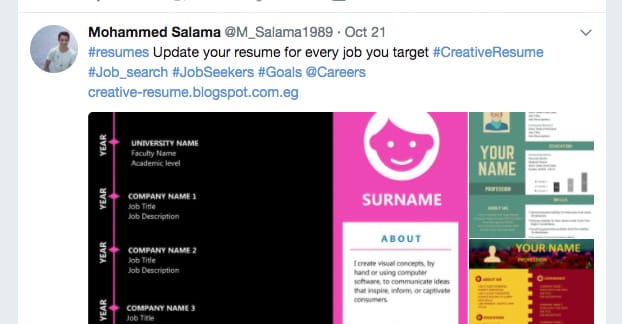 One example I love is actually the semi-parody account SwiftOnSecurity. This unnamed person, pretending to be Taylor Swift if she worked in InfoSec as a side gig, does some very good security work. In between tweeting about movies or about their own strange fanfiction, they tweet links to their major security project, DecentSecurity, which is actually an extremely good resource. Overall, it's made for an engaging and amusing account to follow, while also making sure I know exactly what they do and how to reach them.
Tweet About Industry News
I don't know about you, but when I want to hire a freelancer, I want to know that they're not firmly up their own back ends. I want to know they're aware of the current industry climate, the modern goings-on with brands and tools and trends, and that they're up to date with their craft.
I don't want to hire an SEO writer who doesn't know Google's latest changes. I don't want to hire a graphic artist who refuses to work in any tool other than PhotoImpact. I don't want to hire a coder who only writes in obsolete versions of Java libraries.
One good way to showcase that you're keeping up to date with all of this is to retweet and reply to content posted about your industry. Just keep an eye on trends and news, retweet the interesting bits, and add in your own commentary. You'll get used to expressing your opinion, and it will help in the long run.
Pin High Profile Content and Rotate Pins
Your pinned tweet is a prime piece of real estate on your profile. In that space, you can showcase something you really want everyone to see.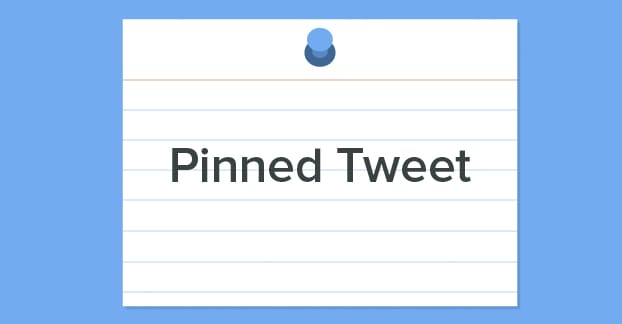 Here are my two recommendations:
Make sure it's a flagship piece representing your skills.
Rotate it out for something new once a month.
Rotation means there's always something new, interesting, and representative of your current level of skill in the top spot. Meanwhile, by making sure it's a top-tier piece of content, you showcase what you're good at. As usual, people who produce individual and unique pieces of content have an advantage. Artists can showcase their favorite piece from the past month. Musicians can pin a sample track from their upcoming album. Writers can link to a high quality ebook, actual book, or published blog post they're proud of. Coders can link to a widget or plugin they created. It's only freelance consultants and those who provide information and aid more than tangible products that have a harder time here.
Follow People In Your Industry
You should use your follow liberally. You can always unfollow someone later if they prove to be a gigantic fool or if they don't provide any worthwhile benefits from the follow. The way I see it, on a professional level, there are three types of people you can follow.
Follow up: these are the influencers, the high profile accounts, the people you idolize and the heroes you aspire to join. They're better than you, they might have taught you, they might just be icons. Writers might follow people like J.K. Rowling, George R. R. Martin, or William Gibson. Musicians can follow the bands they idolize. You're not likely to get a follow in return, but you can see what they're doing and mimic what works.
Follow along: these are your peers. They might be fellow students at an academy, fellow freelancers whose work you like, coworkers at a job you left, or anyone else. They're more likely to follow you in return, because there's not a major gap in your skill levels or success. You can also mutually help each other out; if a job opportunity comes along that you don't have the time or the skill to take, you might be able to refer it along to someone you know – and they can do the same for you.
Follow down: these are the people beneath you. Students of the craft that you'd like to encourage, promising young artists or musicians or coders or just talented people whose work you would like to foster. It can mean a lot to these people to be followed by those they view as their betters, and you can help them along their way. You can provide sage advice and wisdom, you can help with connections, and who knows; maybe they can do the same for you one day.
You can, of course, also follow anyone you personally find entertaining. I find it hard to resist following accounts like dril, DogRates, and some of the other feel-good accounts out there.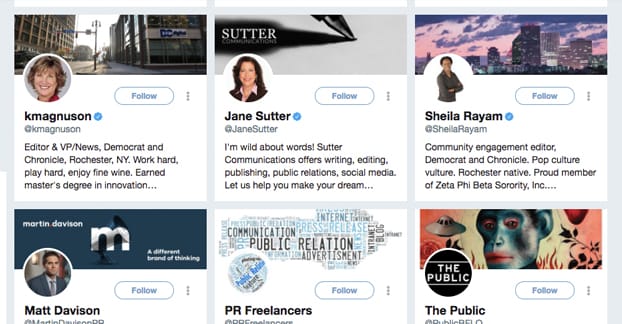 If you find it difficult to make use of your Twitter feed, due to the large number of people you follow, you have two options. You can unfollow some of them to make your feed more manageable, which can be a good option if you find that some of those people are a little off-topic a little too often. For example, William Gibson might be a high profile writer with some excellent books to his name, but his Twitter account retweets like a thousand things a day, and very few of them have anything to do with writing, publishing, or even his chosen genres. It can be worthwhile to unfollow people like that if they aren't giving you any value.
The alternative is to abandon using your primary feed and make a private list, or even several lists. Twitter lists can act like miniature feeds showing you only the posts made by accounts in those lists. You can also use an app like TweetDeck to view individual lists in column-divided feeds. You can have a feed of influencers, a feed of friends, a feed of news, and others if you like. It's a great way to keep up with a lot of different channels simultaneously, and you can customize it. There are, of course, other apps you can use instead for the same effect.
Avoid Automatic Following
I would normally include this as a warning in the previous section, but it's important enough here that I want to make a special note of it.
There's a technique that a lot of low-tier marketers use that I find to be largely ineffective and worth mocking. It relies on using bots to search and monitor Twitter for when certain keywords are used. In my case, it's often keywords like "marketing" and "business" and "SEO" if I use them. You can try it yourself; just make a tweet using a keyword like that and see what happens.
Even when making fun of the whole concept, you're likely to get people who follow you almost immediately. These accounts don't know who you are or care about your feed; they're following you for one reason and one reason only, and that's to get you to follow them back. Once you've followed them, they'll probably wait a few days and then unfollow you. They'll do that if you don't follow them, anyways, which I never do because they're invariably low quality accounts just shilling an ebook or some crappy service.
It can be tempting to use a method like this – a variation of the follow-back method – to try to grow your followers. And, while you do indeed need to get followers, using an exploitative bot like this won't do it effectively. Most people will just ignore you or call you out on using a bot to follow them. Heck, I made a tweet mocking people who do this and had someone bot follow me for it. They lasted four days.
Respond to Messages Quickly and Appropriately
When you're using Twitter, you'll occasionally have people contacting you asking about your services. It's up to you to evaluate their pitch and see if they're a client worth working with. Unfortunately, a lot of times they simply won't meet muster.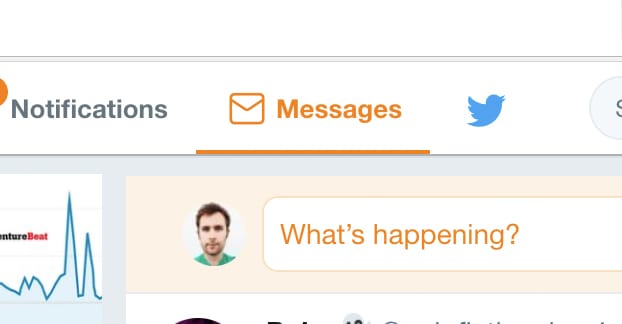 One thing that's pretty common on Twitter, especially in creative areas like art and music, is the utter devaluation of skill. People don't seem to realize that even though a drawing or logo creation service might take an hour, a high price is not a scam. Pricing doesn't just consider the time it takes to complete a project; it considers the time spent on education to produce such results. Don't believe me? Just check out an account like For Exposure to see what kinds of crap freelancers have to put up with.
Unfortunately, this means a lot of people will try to ask for your services for a very cheap or free price point, and you're going to have to learn how to say no very quickly. You'll also need to learn your limits on time; you might end up with enough demand that you won't be able to satisfy everyone who comes your way.
Proactively Search for New Opportunities
If you aren't flooded with contacts, one thing you can do is go out looking. A lot of times, people will post that they're looking for an artist or a musician or a coder or what have you for a project. You can use Twitter's search to look for hashtags and keywords relevant to your industry, to find the people posting opportunities. When you find them, you can approach those people if you think they might have a good project for you.
Again, though, be willing to walk away from a bad deal. There are plenty of people who will have brainchild projects they want to get off the ground, but no funding to pay you. Unless you're very well off or very confident in the success – and future compensation – of the project, don't go in on it. Too many freelancers make too many mistakes and get burned with wasted time and no money.